Join Making a Life: The Conversation No. 1—with Special Guests Kaffe Fassett and Erin Lee Gafill on 20 June 2020
Melanie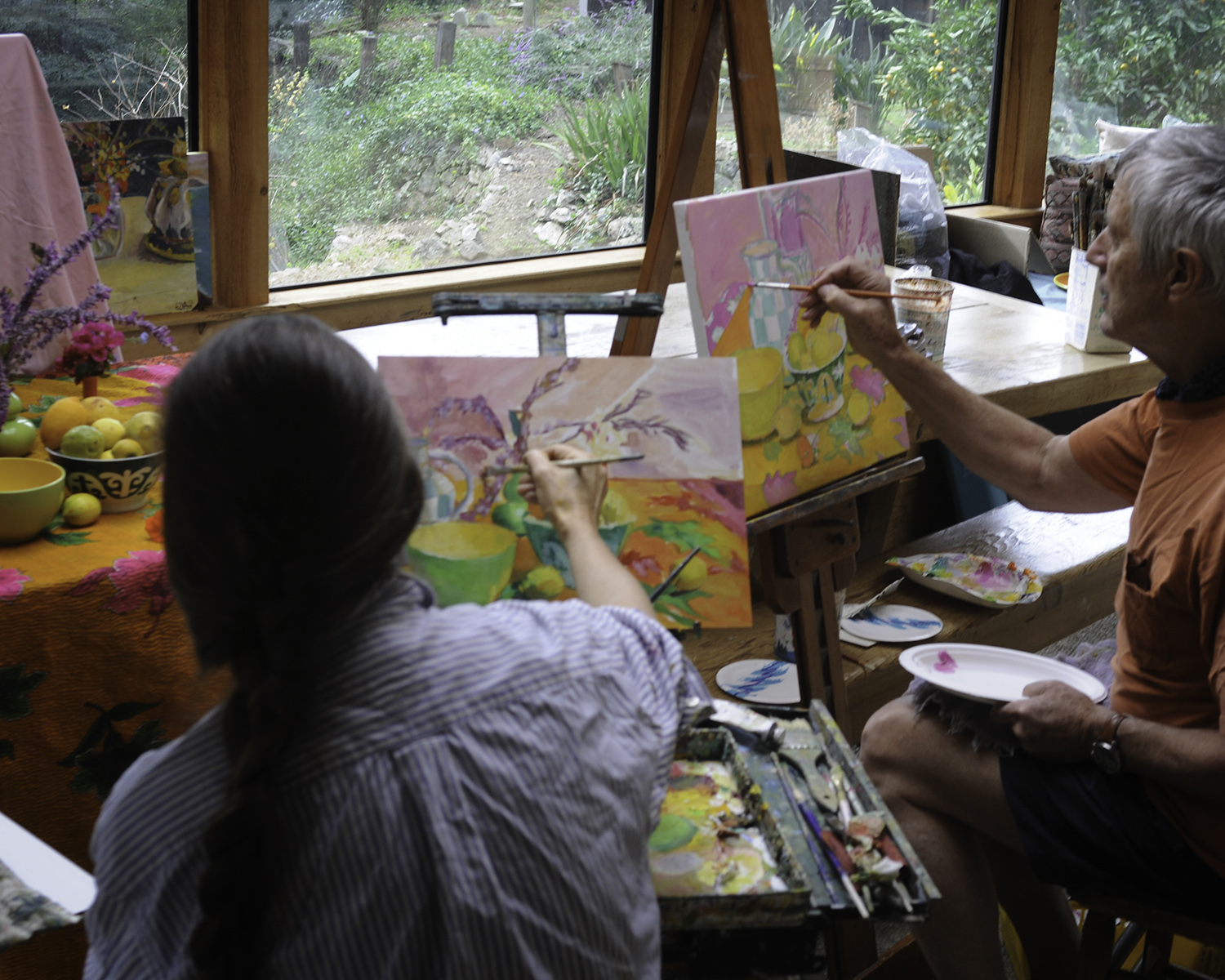 Please join host Melanie Falick and special guests Kaffe Fassett and Erin Lee Gafill for an intimate Zoom conversation about the power of making to give our lives authenticity and meaning, and to celebrate the publication of COLOR DUETS, Kaffe and Erin's new book and an upcoming exhibition at the Monterey Museum of Art. This event will take place on June 20, 2020, at 1PM EST.
For over twelve years, Kaffe and his niece Erin have been coming together each May to paint complementary still-lifes in a cabin next to the home where they both spent their formative years—on the grounds of the famed Nepenthe restaurant. In this stolen week, they sit side by side, surrounded by palettes, easels, and brushes. In COLOR DUETS they share not only their paintings—and stories about the making of them—but also their thoughts about the family and artistic legacy they are part of and how it has influenced the hands-on way they lead their lives.
About their upbringing in the same place, 25 years apart, Erin says, "Knitting, macrame, papier-mache, sewing, cooking, and painting were all regular activities that erased artificial boundaries between art and craft and life."
This event is free but requires pre-registration here.
ABOUT THE GUESTS
KAFFE FASSETT is is an internationally renowned artist, lecturer, and teacher who has inspired people around the world with his colorful work in fabric, knitting, needlepoint, patchwork, painting, and mosaic. His artworks have been featured in museum and galleries worldwide, and he was the first living textile designer to have a one-person show at the Victoria and Albert Museum in London. He is the author of many books.
ERIN LEE GAFILL is an award-winning artist, teacher, and author. Her first art teacher was her uncle Kaffe Fassett. Her work is collected internationally and exhibited around the United States. Erin has been leading creativity and painting workshops for the past two decades—she is a regular teacher at the Esalen Institute, California; Rancho La Puerta, Mexico; and Tenuta Spannocchia, Italy—and recently began offering online classes on her YouTube channel Awaken the Art Within.
ABOUT MAKING A LIFE: THE CONVERSATION
Making a Life: The Conversation is a new online and (eventually) in-person conversation series developed by Melanie Falick, author of MAKING A LIFE: WORKING BY HAND AND DISCOVERING THE LIFE YOU ARE MEANT TO LIVE. The goal of this series is to generate lively public discourse about why making by hand and making the ordinary extraordinary remain vitally important in the 21st century. Or, in other words, let's change the world for the better by recognizing making by hand as a pathway to our wellness (as individuals, as community members, and as citizens of the earth).
ABOUT OUR BOOKSELLING PARTNER
Our bookselling partner for this event is The Phoenix Shop at Nepenthe. This is where you can always see original works by Kaffe and Erin plus many other treasures, including, while supplies last, COLOR DUETS (signed by Erin) and MAKING A LIFE (with a handmade card from Melanie).